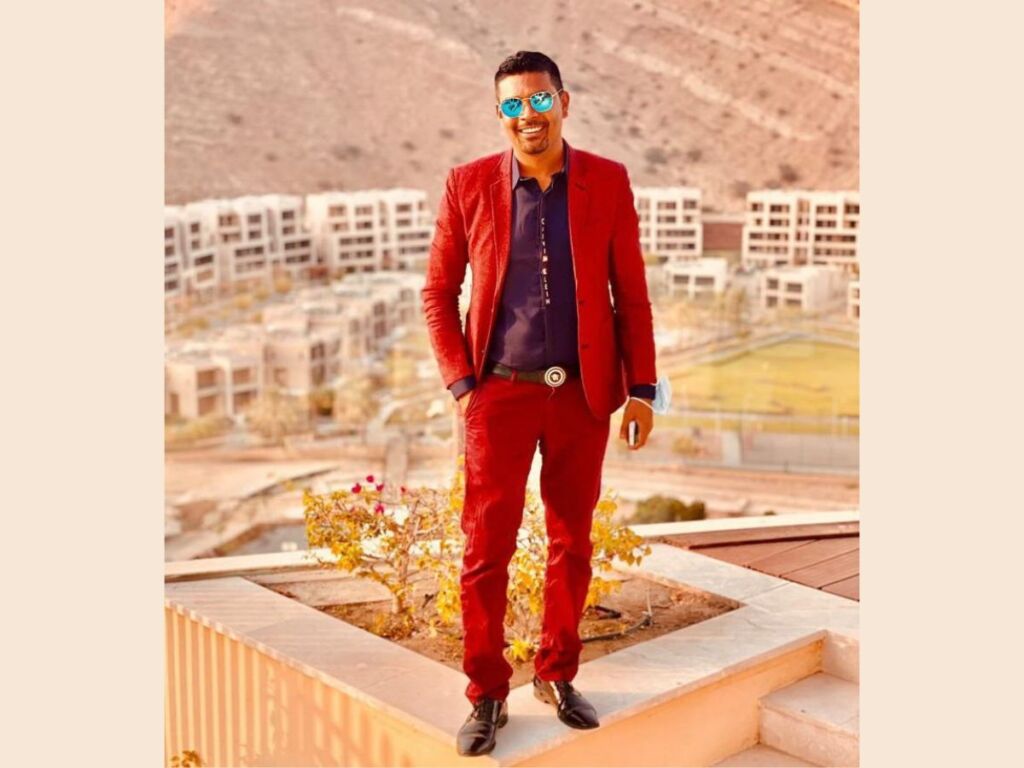 New Delhi (India), April 1: Gulf Business Excellence Award recipient, Dr. Nithin Raveendran Nair, is a true inspiration to us all.
Four foreign company owners from Oman recently won the prestigious Gulf company Excellence Award at the GCC business conclave held at the Atlantis Hotel Dubai.
Omani entrepreneurs have now received prestigious awards at this gathering for the first time. Four of the fifteen winners were Omani-based businesspeople, including Dr. Nithin Raveendran Nair of the Axis group of companies, who was singled out for recognition as a young, emerging entrepreneur.
Currently, the AXIS Group of Companies has achieved a leading position in the engineering and event management industry under Dr. Nithin Raveendran Nair's leadership. The company has received wide recognition for its event management and engineering services, including the "Best Event Management Company" and "Best Company in Music Festival" awards. The company is operating successfully in Oman, UAE, Bahrain, and India, serving top hospitality and luxury destinations such as the Ritz Carlton Al Bustan, W Muscat, The Chedi Muscat, and Barr Al Jissah Shangri La.
He has demonstrated that with hard work, perseverance, and determination, anyone can achieve success, no matter their starting point in life.
Dr. Nithin Raveendran Nair's relentless drive for success has resulted in a long list of accolades, including the 2015 Gulf Business Excellence Award and the title of "Youngest Entrepreneur of the Year" by the Home Ministry Award for the entire Middle Eastern Region.
Born and raised in Trivandrum, Kerala, Dr. Nithin Raveendran Nair understood the power of education from an early age. He financed his own Master's degree in Computer Science from the Amrita Institute of Technology through determination and hard work.
In Oman, where he had come to clear up his family's financial commitment, Dr. Nithin Raveendran Nair faced a series of daily struggles. Starting as a Technical Support Assistant for Sokkia Surveying Equipment with a salary of just 150 Omani riyal and sharing his accommodations with six other people, Dr. Nithin Raveendran Nair persevered in his pursuit of success. His unwavering motivation enabled him to secure a better-paying job at a noted telecom company in Oman, setting him on the path to success.
With his exemplary skills, Dr. Nithin Raveendran Nair quickly climbed the corporate ladder, moving up from a Sales Engineer to a Sales Manager and finally to Business Head of the company. Along the way, he completed his Master in Business Administration (MBA) and eventually decided to venture out on his own.
Joining the AXIS Group of Companies, Dr. Nithin Raveendran Nair took a job in a well-established business house in Oman as an Executive Director to sustain financial security.
Nevertheless, he eventually left that job to focus full-time on the AXIS Group of Companies. Dr. Nithin Raveendran Nair pursued a Doctorate Degree in Business Management from the United States of America, which he completed.
Outside of his professional achievements, Dr. Nithin Raveendran Nair is also an avid sports car enthusiast with a passion for travel. He has explored a total of 69 countries and is the proud owner of one of the best sports car collections in Oman, including Lotus, Brabus, Maserati, Porsche, Infiniti, Volvo, and more.
Dr. Nithin Raveendran Nair's life story is nothing short of remarkable, and it is a testament to his perseverance, grit, and determination. He is an embodiment of the idea that anyone can achieve great things with hard work and dedication, regardless of their starting point in life. Individuals can seek out @axisnithin to gain inspiration from him.
If you have any objection to this press release content, kindly contact pr.error.rectification@gmail.com to notify us. We will respond and rectify the situation in the next 24 hours.