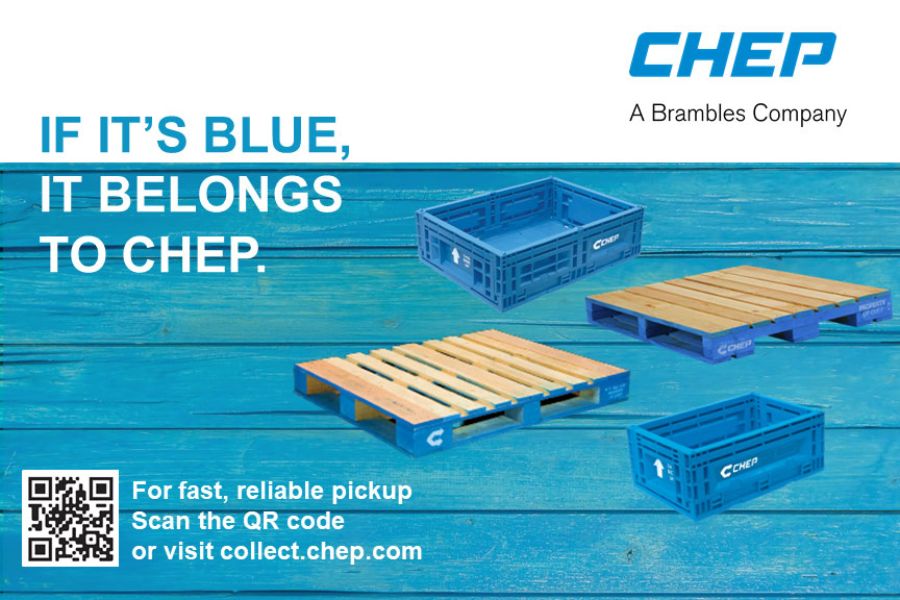 CHEP, a top supplier of pooling solutions for containers and pallets
New Delhi (India), April 4: CHEP, a leading provider of pallet and container pooling solutions, has issued a public notice in several newspapers in India throughout March 2023, cautioning the general public on misappropriation and unauthorized use of its equipment. CHEP equipment, which includes wooden pallets, crates, containers, and other shipping platforms, is marked with the CHEP logo and/or statements such as "Property of CHEP" or "Owned by CHEP" to identify it as belonging to CHEP. Whenever possible, CHEP equipment is also identified by being coloured blue.
The public notice serves as a reminder that CHEP never sells or transfers ownership of its equipment. No person is entitled to purchase or sell the equipment, or use, dispose of or otherwise deal with equipment in any way inconsistent with CHEP's policies. Only CHEP, its hiring customers and their respective agents can legitimately use CHEP equipment, which cannot legally be bought, modified, exchanged, sold, or otherwise disposed of. The unauthorised appropriation, use or disposal of CHEP equipment is prohibited and may result in legal action and/or criminal prosecution.
Returning CHEP's equipment is essential for environmental sustainability, as it helps minimize environmental impact by reducing CO2 emissions and ensuring continuous circulation in the supply chain. Returning equipment also decreases the need to use valuable resources for manufacturing new equipment.
CHEP provides channels for reporting unauthorised use and requesting the return of misplaced equipment. The public can call their toll-free number or email them for assistance. Following CHEP's guidelines promotes environmental sustainability and avoids legal consequences.
CHEP's pooling equipment model significantly reduces waste in various ways by embracing the three R's: – Reduce, Reuse, and Recycle. CHEP's repair and reuse model enables them to collect all pallets, including the damaged ones, thereby eliminating concerns about waste wood. Moreover, CHEP's managed pooling services minimize less apparent forms of waste. Its quality assurance process reduces the risk of product damage and food waste, thereby decreasing the need for replacing and redelivering goods, which in turn reduces emissions. CHEP's pallet life cycle plays a significant role in reducing waste wood and minimizing the amount of wood used in pallet production. Independent research has shown that a CHEP pallet can last up to 10 times longer than its white-wood counterpart. This is due to the pallet's durability and continual inspection and repair through CHEP's managed pooling service.
About CHEP: CHEP helps move more goods to more people in more places than any other organisation on earth. Its pallets, crates and containers form the invisible backbone of the global supply chain, and the world's biggest brands trust CHEP to help them transport their goods more efficiently, sustainably, and safely. As pioneers of the sharing economy, CHEP created one of the world's most sustainable logistics businesses through the share and reuse of its platforms under a model known as 'pooling'. CHEP's ambition is to create a positive impact on the planet and society, pioneering regenerative supply chains. CHEP primarily serves the fast-moving consumer goods (e.g., dry food, grocery, and health and personal care), fresh produce, beverage, retail, and general manufacturing industries. CHEP employs approximately 11,500 people and believes in the power of collective intelligence through diversity, inclusion, and teamwork. CHEP owns approximately 345 million pallets, crates, and containers through a network of more than 750 service centres, supporting more than 500,000 customer touch-points for global brands. CHEP is part of the Brambles Group and operates in approximately 60 countries.
In India, CHEP offers sustainable pallet and container pooling services to businesses across various industries, helping them optimize their supply chain operations and reduce their environmental footprint. CHEP's pooling model allows businesses to share pallets and containers, reducing the need for disposable packaging and minimizing waste. The company's services also enable businesses to streamline their supply chain processes and improve efficiency. With a commitment to sustainability and innovation, CHEP continues to drive positive change in the logistics industry while providing cost-effective and reliable supply chain solutions to its customers.
For more information, please visit: https://www.chep.com/in/en/why-chep
If you have any objection to this press release content, kindly contact pr.error.rectification[at]gmail.com to notify us. We will respond and rectify the situation in the next 24 hours.